For me, Art is a field of experimentation where you don't have to explain to anyone about what you're doing or why you're doing it. For many years, I have perfected my creations without showing them to anyone. They were my secret garden. I was working on my digital paintings at night, after I spent the day making money.
René Char, a surrealist poet, says: «The books that are going to emerge know about us things that we don't know about them.» I think this idea could also be applied to paintings: if you look very deeply into Art, leaving space for the unknown, trying to go every day a little further, you end up discovering totally new facets of yourself and the reality. This is, for me, the artist's true reward.
I have played during more than 10 years with shapes, nudes, textures and colors, until I discovered a very personal way to express myself with these tools.
​
2021 SERIE SQUARED TEXTURED BLEU-VIOLET
(6 creations, 100 x 100 cm, printed on 3.0 mm Dibond aluminum  )
This series aims to show how light changes our perception of geometric and human forms, as well as our perception of space.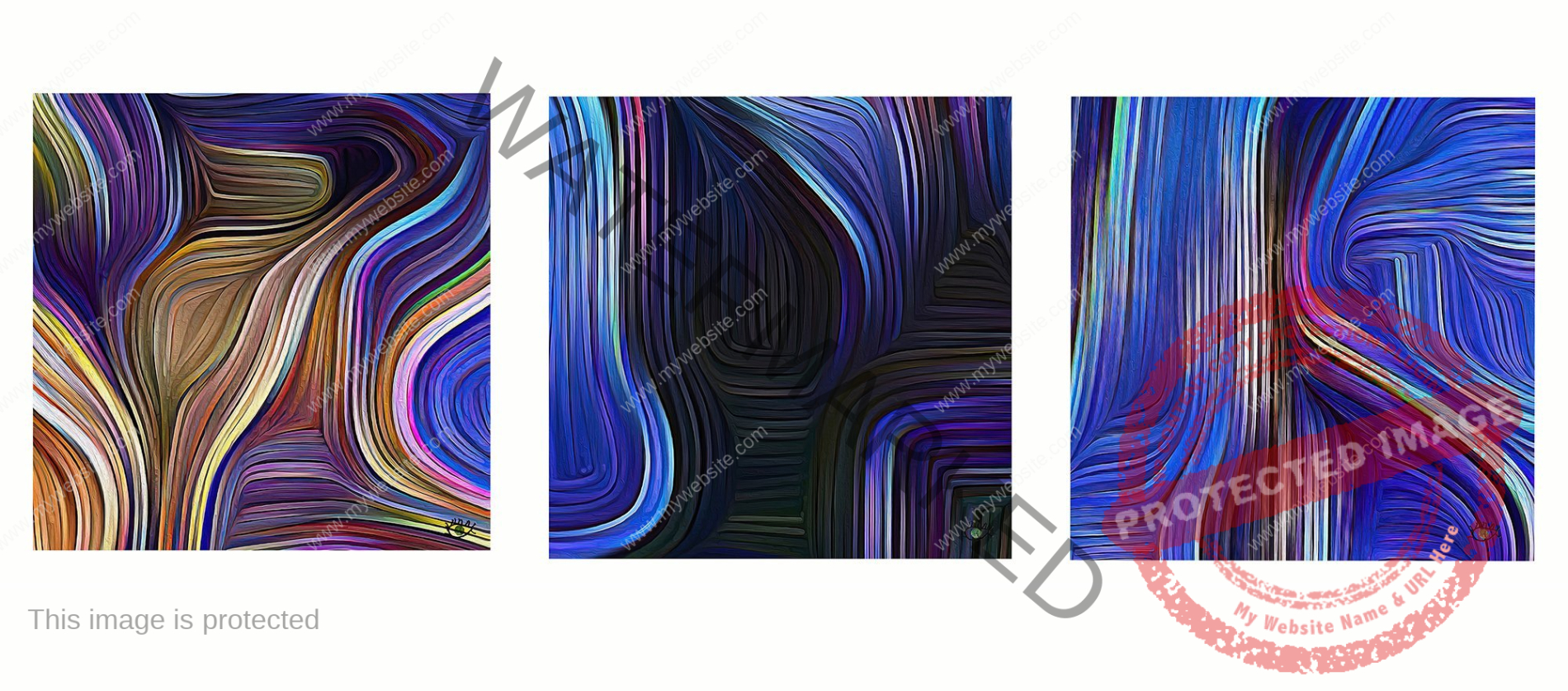 2020: SERIE MIRAGE CITY
(6 digital paintings, 100 x 150 cm, printed on 3 mm DIBOND aluminium)
If the city were also a mental space, composed by the dreams of all who inhabit it? If this multitude of aspirations, this compact mass of illusions could form towers higher than the real ones?

2019: SERIE MYTHOLOGY
(6 creations, 50 x 70 cm, printed on cotton canvas)
What if the Greek mythology monsters were a mere reflection of our wildest fears and desires?

2018: SERIE EYES TEST
(6 creations, 100 x 150 cm, printed on 310 gsm museum grade cotton paper)
Is there a language of the unconscious? Is it possible to understand the language of poetry, abstract works and dreams? Or can you only feel them?

2017: SERIE SURRÉALISTE
(6 creations, 70 x 50 cm, printed on cotton canvas)
Losing ourselves on the intimate geography of another make us find ourselves? This painting is called «Lost on you" and has emerged from the song of the same name by Laura Pergolizzi. 
Second picture :What if pollution was a reflection of our own vanity and the strange feeling that we no longer depend on nature?
2016: SERIE PRINTEMPS
(6 digital paintings, 100 x 150 cm, printed on 3 mm DIBOND aluminium)
Is the annual rebirth cycle of Nature, eternal?

2015: SERIE NATURE
(6 creations, 50 x 70 cm, printed on 310 gsm museum grade cotton paper)
Following the path of inspiration, I include more and more natural textures in my creations always looking for new sensations. As Gauguin says, «The artist does not have to copy nature but take the elements of nature and create a new element.»

2014: SERIE ABSTRACT
6 paintings of 100 x 150 cm on cotton canvas
Some time later, I discovered that mixing more than 2 or 3 layers to create a painting allows you to express more subtle feelings. I really enjoy mixing photos of natural things (plants, flowers, sand, etc.) with photos of inanimate things (old graffities, rusty surfaces, etc.) to create new visual feelings.
2013: SERIE POÉSIE
6 paintings of 50 x 70 cm on 310 gsm cotton paper.
I've always loved poetry. In fact, it seems to me that painting could be a form of visual poetry and I would love to include texts by my favorite poets into my creations. As it's complicated, I chose to include in this series a sentence that contextualizes its meaning.

2012: SERIE GRAFFNUDITYS
6 paintings of 100 x 150 cm on cotton canvas.
I keep looking for and photographing details of doors, walls and tables that have been many times painted and then worn down by time. Graffiti artists use abandoned spaces in the city to express themselves and I use layers of their works as textures for mine. The garbage of a living being is not always the food of other living beings?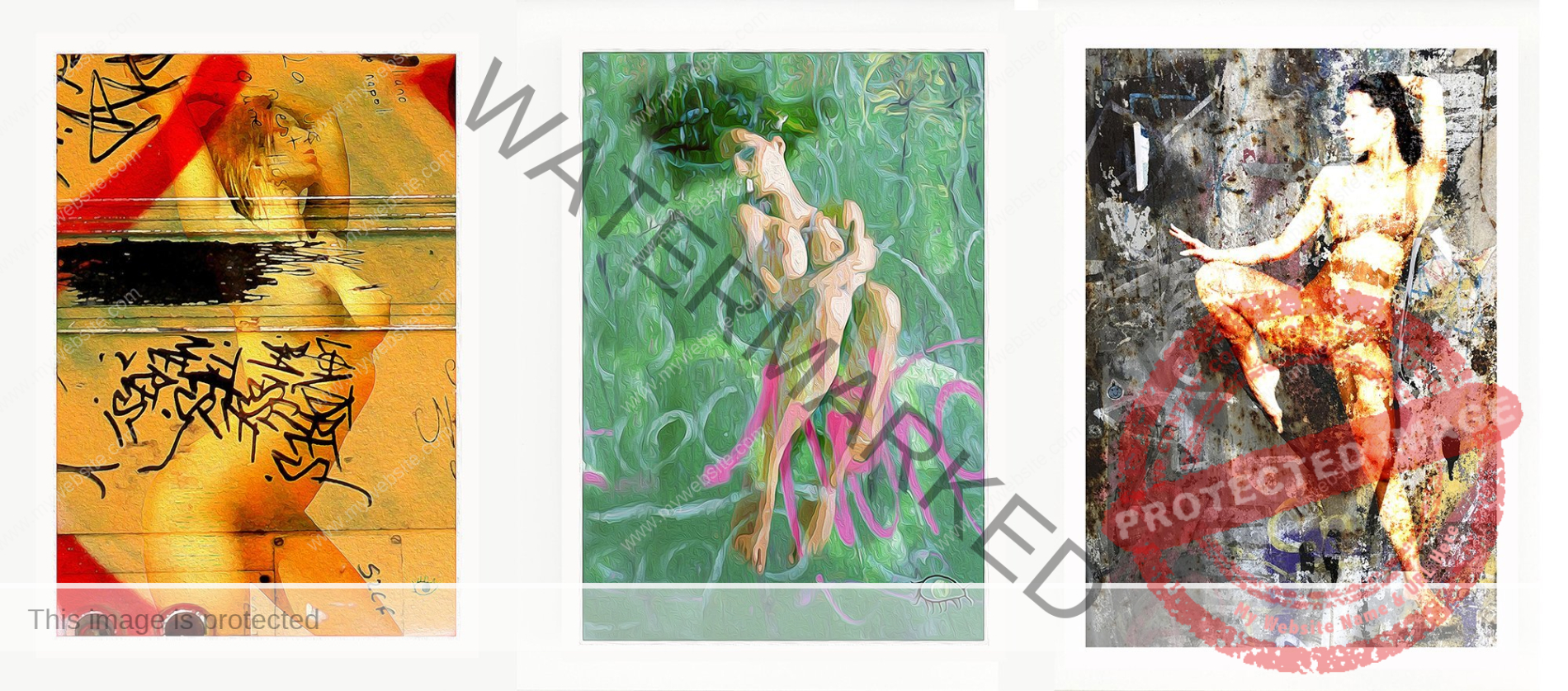 2011: SERIE PAREDES
6 paintings of 50 x 70 cm on 310 gsm cotton paper.
Using as background layer photographs of walls and doors chipped, and superimposing a layer of nude photos, I start to create totally new images. I use the lines of the nudes/black and white portraits, as well as the strength of the colors/textures of the abandoned sites, sculpted by time and weathering. I play with chance, the insignificant, trying to make sense, through my artistic look.
2010: THE INVISIBLE COLOR OF LITTLE THINGS
After a while, I felt something was missing on the austere beauty of the black and white nudes. One day I stood in front of an old door that I had seen dozens of times and when I got close enough, I discovered something surprising: the mixed action of man, time and nature had created a beautiful abstract picture, right there, in view of everyone. And no one had noticed it. It was a revelation.

2009: BLACK AND WHITE NUDES
The ancient Greeks thought nudes could express an ideal of divine perfection both psychologically and physically. For me, they still have the power to shape perfection into the form to give it movement and life. Thanks to analogical photography, each nude in itself is a piece of ephemeral beauty fixed forever on photographic paper.